ORIS is calculating the CO2 footprint of HanseGrand's climate-friendly construction materials. HanseGrand is the market leader for water-bound and semi-bonded path surfaces. Its solutions unseal surfaces and thus enable intelligent water management and good soil respiration. They blend harmoniously into urban and rural spaces, such as cycle paths, parks, roads, farm tracks and event areas. For over 20 years, the company has been successfully supplying projects in Germany and abroad, from Berlin and Bitburg to Athens and Copenhagen. The path surfaces are easy to maintain, weather-resistant, durable and now also CO2-certified by ORIS Materials Intelligence!
The certification was based on EN 15804+A2 for the LCA modules A1-A3. It was determined that building owners can achieve an average reduction potential of - 85% per tonne with HanseGrande's climate-friendly construction materials compared to the reference concrete (C20/25) and - 70% per tonne compared to the reference asphalt product (asphalt with 6.5% bitumen).
Timon Pott, Managing Director at HanseGrand, explains his decision to work with ORIS: "HanseGrand is the innovative market leader in road surfaces. The sustainability requirements for planners, cities, municipalities and building owners are constantly increasing and we want to help our customers to make CO2 footprint assessment simple, comprehensible and usable."
Together for a future worth living
In the fight against climate change, it is good to adapt to its effects, but also to reduce greenhouse gas emissions. Low climate impact construction materials can make a significant contribution to implementing sustainable urban concepts such as the one known as 'sponge city'. However, in order to reduce emissions, public clients also need to know the CO2 footprint of building materials. For this reason, HanseGrand has now a CO2 certificate issued by ORIS for each of its products. This means that HanseGrand can offer added value for its clients in both areas and help Germany to become climate-neutral by 2045. Timon Pott, Managing Director at HanseGrand, describes the collaboration with ORIS as follows: "Very innovative. Technically and personally excellent. We will do a lot more together."
ORIS consistently pursues the goal of enabling the construction industry to move closer to the vision of low carbon impact infrastructure projects. "We are proud to have developed a scientifically sound measurement process for the carbon footprint of construction materials. We are also grateful that companies like HanseGrand recognize the added value of our innovative solution," added Nicolas Miravalls, CEO of ORIS.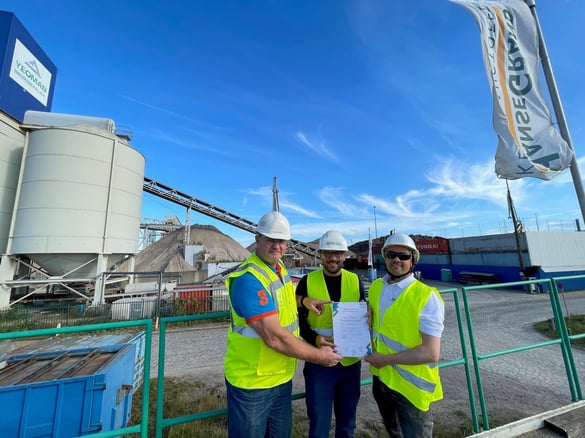 CO2 certificates from ORIS Materials Intelligence enable well-founded decisions
In order to achieve the goal of climate neutrality, it is necessary to know the CO2 footprint of products to best assess its reduction pathways. It is only this way that the greenhouse gas potential of a product can be taken into account in decision-making processes. For this reason, it should even become mandatory for manufacturers of construction products to disclose this in future. Emissions from construction products such as HansGrande's are generated during the extraction, transportation and processing of aggregates. This corresponds to LCA modules A1-A3. Knowing exactly where the emissions are generated also enables HanseGrand to reduce them even further. The word "climate-friendly construction materials" has been associated with our name for two decades and we live by it. Our products unseal surfaces, paths and roads - and make a very positive contribution to the microclimate," adds Timon Pott, Managing Director at HanseGrand, on the importance of sustainability for the company and also for him personally.