UK
Link-road construction project for the Major Road Network in the UK
ORIS was used by AECOM to evaluate the 60 year Whole Life Cost and environmental impact of the preliminary pavement designs. ORIS was employed at the conceptual stage of design for the new construction of a 1.6 km link-road for the UK's Major Road Network.The primary objective was to optimise the pavement design while minimising environmental impact. This involved considering both the evaluation up to and including the construction phase and also a comprehensive 60-year analysis period that factored in the appropriate maintenance activities for each pavement design option.. The project prioritised the sourcing of locally available road construction materials and embraced a circular economy approach. By utilising locally available by-products (steel slag) from the steel industry in the surfacing of the pavement designs, a portion of the aggregates was replaced, reducing the consumption of natural resources while ensuring performance standards were maintained.. The assessment was further enhanced with a thorough 60 year Whole Life Cost appraisal, enabling ORIS to identify the most economically advantageous pavement design.
Carbon footprint of the project potentially reduced by 0.52 million eq. kgCO₂ (-15%) which is equivalent to driving an average sized family car 13 times around the world.
An estimated cost decrease of £0.87M at the early design stage
Material consumption of the project potentially reduced by 14.6 kTonnes (-15%)
Aggregate consumption reduced by 50% on the TSCS asphalt mixtures containing steel-slag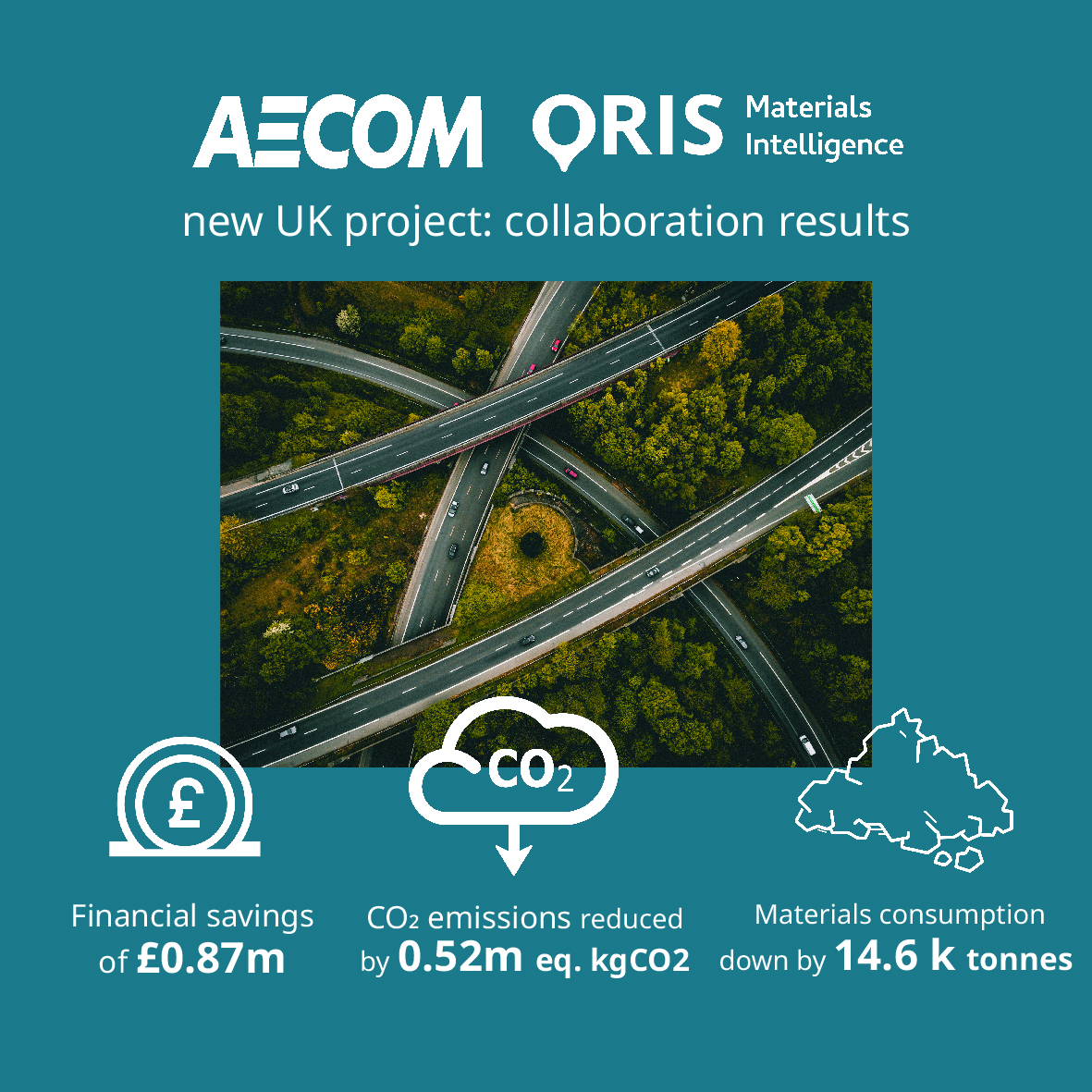 Finland
One-Hour Train Project
The One-Hour Train is a rapid rail link between the cities of Turku and Helsinki. It is one of southern Finland's major transportation projects, as part of the country's ambitious climate plan. The project covers 100km between Espoo and Salo, which includes 113 bridges, 22 tunnels and more than 200 roads. ORIS supported Turun Tunnin Juna (TTJ) to bring to the 150 project engineers a digital tool to evaluate more sustainable and circular solutions in a short period of time. Using ORIS, the project team was able to perform comparative analysis of multiple rail track scenarios within local standards and railway infrastructure regulations. Based on data on local materials sourcing, the dashboard provided instant impact assessment on carbon emissions, costs, circular options and resilience to climate change. This assessment allowed to find rapidly the optimum design options, meeting the sustainability and circularity goals set.
Initial carbon impact pavement analysis and alternative low-carbon options
Evaluation of recycling materials options
Modelization of climate impact over 40 years to include early adaptation solutions
Control of costs over whole lifecycle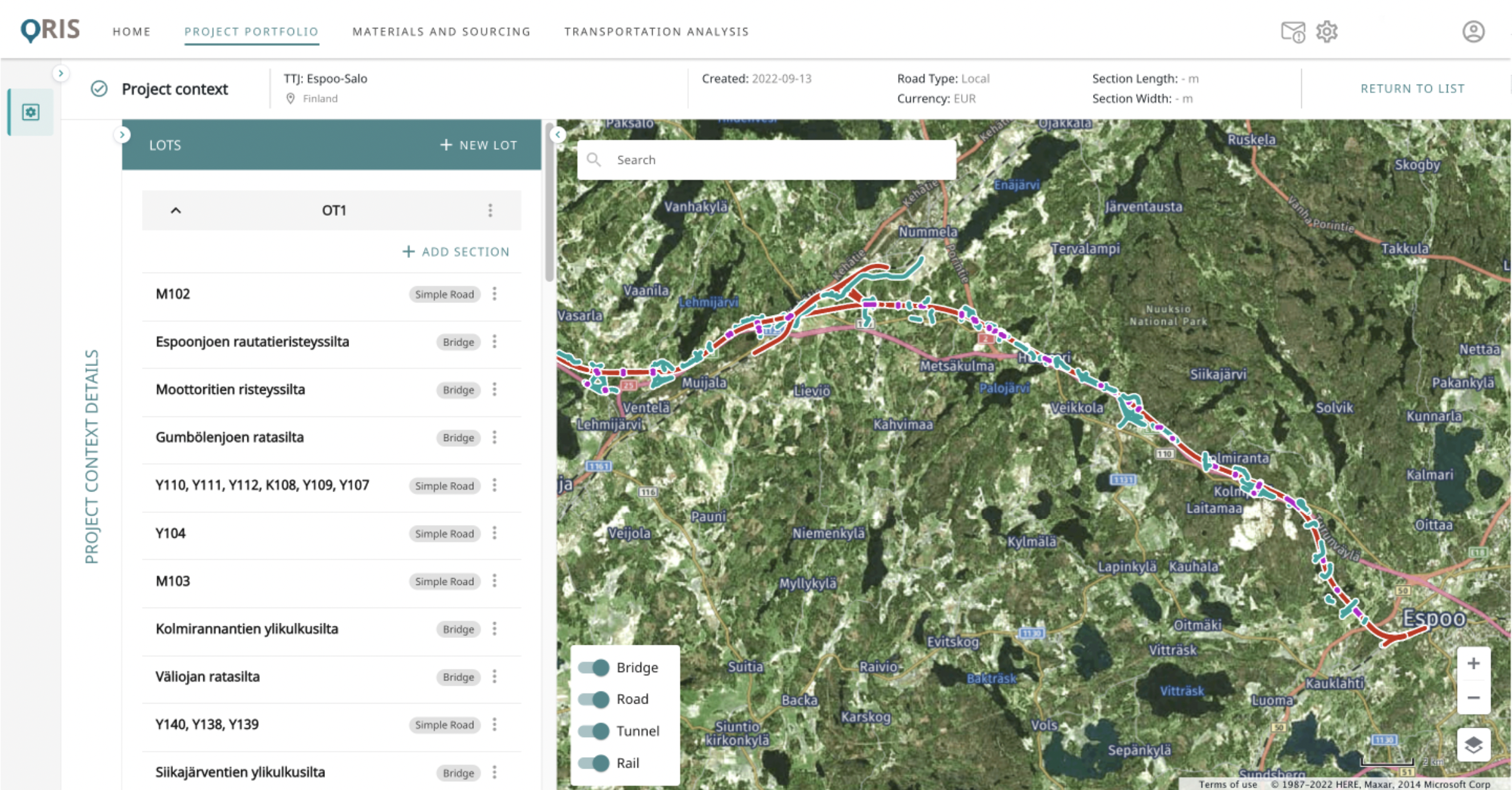 UK
A highway section transformed into a multimodal pathway
Funded by the UK Government's Leicester & Leicestershire Enterprise Partnership Transforming Cities Fund, the A50 Groby Road Corridor improvement project will downgrade the existing A50 in favor of a high street environment by introducing cycle lanes, new and enhanced pedestrian and cycle crossing facilities and safety improvements. Working with AECOM, the ORIS platform generated multiple pavement scenarios with a key focus on carbon emissions, cost estimation and material consumption over the project's 40-year service life. The analysis was performed in a very short timeframe (a 1-month timeframe between the start of data collection and the final report) and provided a full range of carbon and cost calculations to help inform decision making. Using the ORIS platform, a total of up to 20% cost and budget reduction of materials and between 43-55% carbon reduction over a 40 year maintenance period was demonstrated as being achievable by assessing different options.
20% cost reduction
Between 43-55% carbon reduction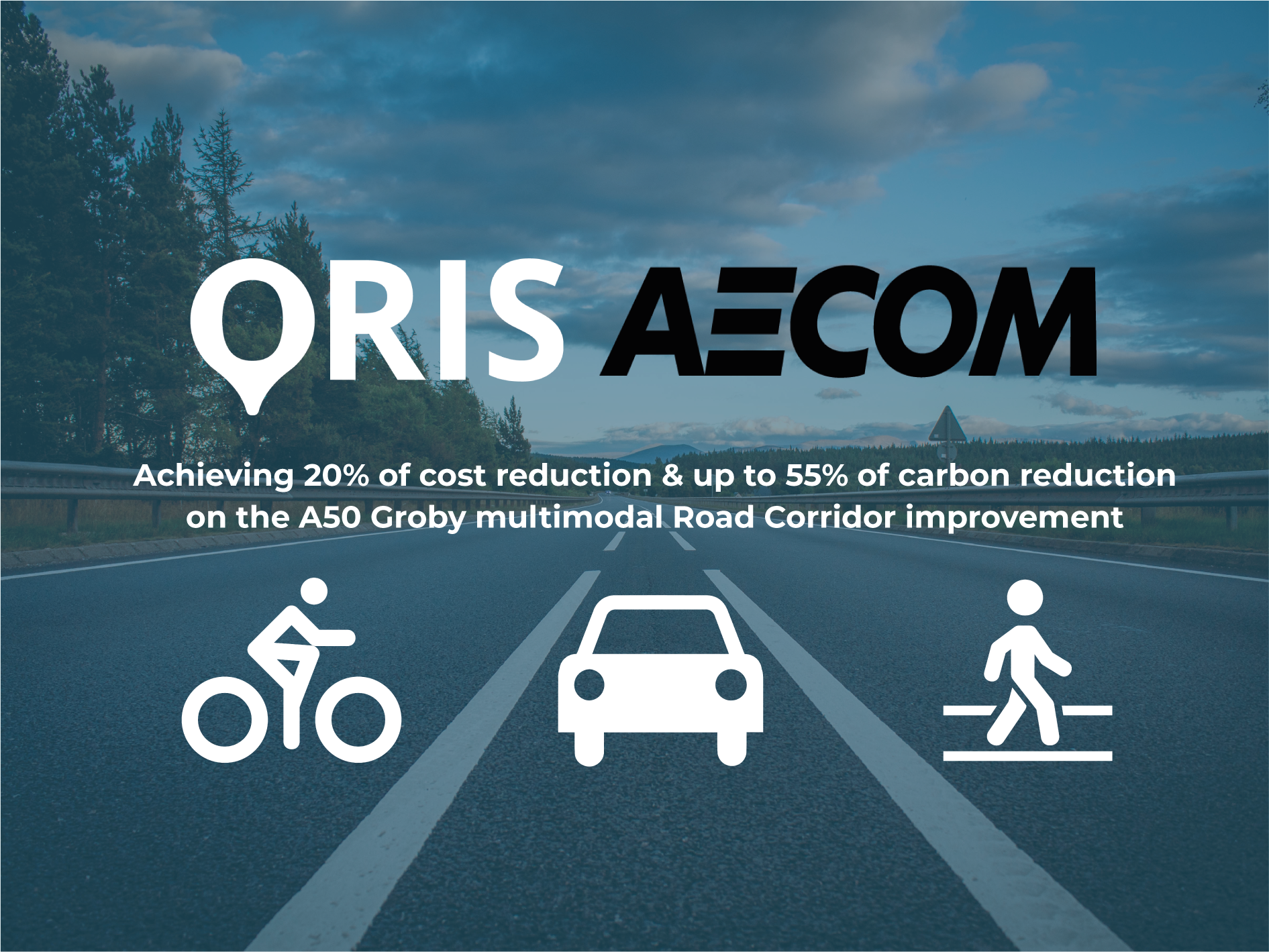 Uzbekistan
A multi-criteria impact assessment
Supported by the digital sandbox program of ADB (digital services and innovation), ADB CWTC (Transport and Communication division) and in partnership with ORIS, the upgrade of the A380 road section section 673 - 698 km in Uzbekistan was the opportunity to pilot a multiple-scenario digital analysis of its pavement design. After compiling and processing local construction materials into the ORIS platform, a comparative analysis on multiple scenarios was conducted around a few key indicators: Pavement solutions and mechanical performance over the life cycle; Circular economy options; Carbon emissions and environmental impact; Resource consumption including water; Safety prediction based on iRAP's international assessment methods; Resilience to climate change via the evaluation of the main risks of the project (heat, frost/thaw cycle, stilting, floods). Significant design improvements were identified.
-10% in costs;
-17% in carbon emissions;
-30% of natural resources usage;
5M liters of water saved;
Improvement of road safety to meet and exceed the UN safety target of 3 stars & saves 1.800+ serious injured persons and fatalities;
Climate change risk analysis over 40 years was performed to evaluate the impact in terms of heat, frost/thaw cycles, water runoff floods, silting and landslides and identify countermeasures.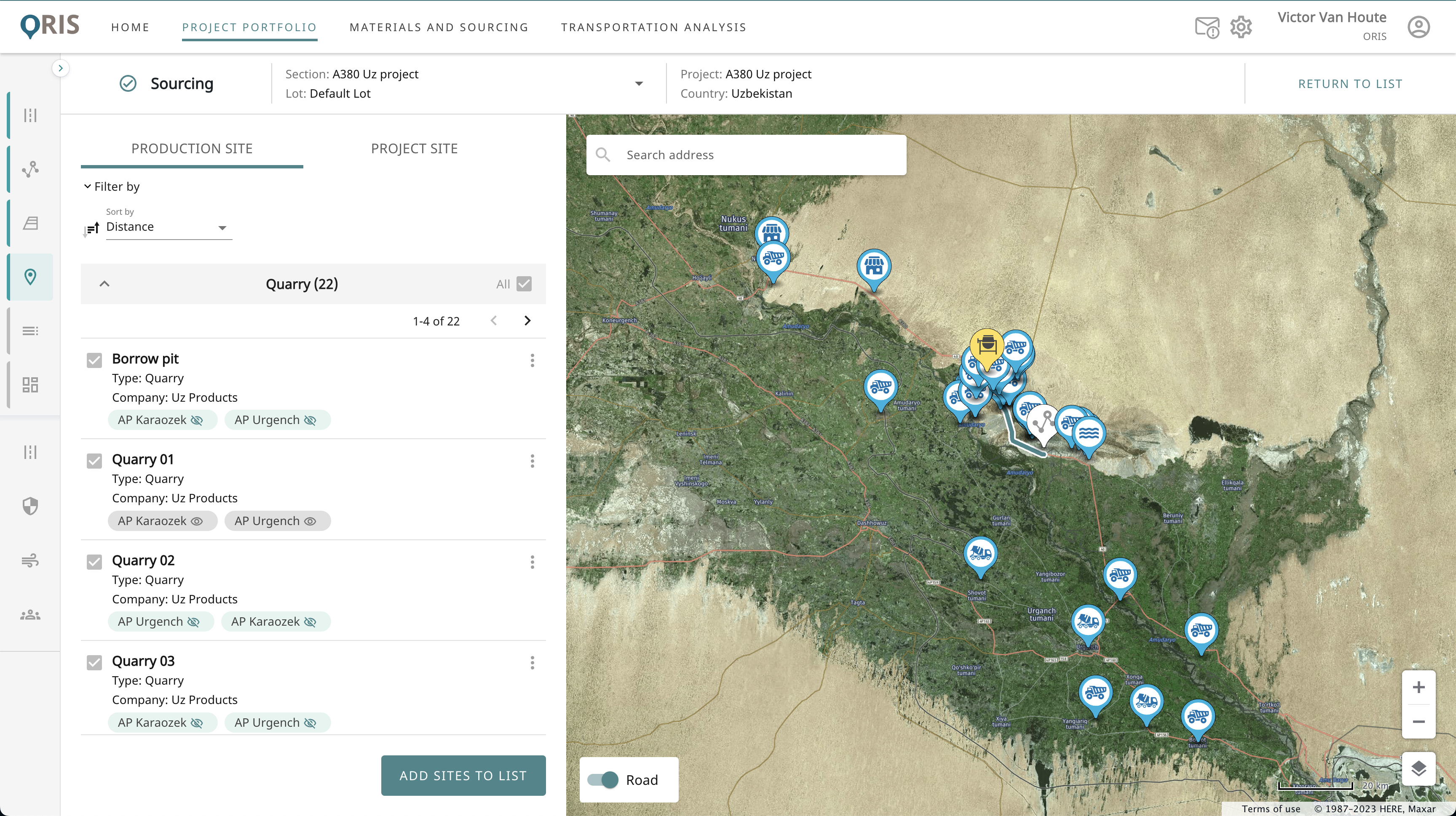 UK
A carbon neutral scheme
ORIS worked at the early stage of design with Aggregate Industries on the 6-km reconstruction of an existing carriageway which ran from the M6 Jct 36 and the Brettargh Holt roundabout in Cumbria. This £8m project for National Highways was identified as the first UK Carbon Neutral Scheme. Early engagement and a strong commitment from National Highways enabled to deliver a carbon neutral scheme led to the search of a very low carbon pavement solution through ORIS, that would then be offset with Circular Ecology to reach carbon neutrality. ORIS was able to generate multiple design options within the pavement standards and shortlisted 3 options that showed significant improvement in terms of carbon performance, costs, resources and durability compared to the initial design. The final design was chosen to find an optimum balance between carbon performance and cost performance. The scheme was recognized by the 2021 Highways Awards with the Environmental Sustainability and the Special Merit Awards.
Carbon emissions reduced by 55%
Old pavement recycled by 85%
Costs reduced by £3m
Heavy goods vehicles removed: 6,000
All hazardous waste material reused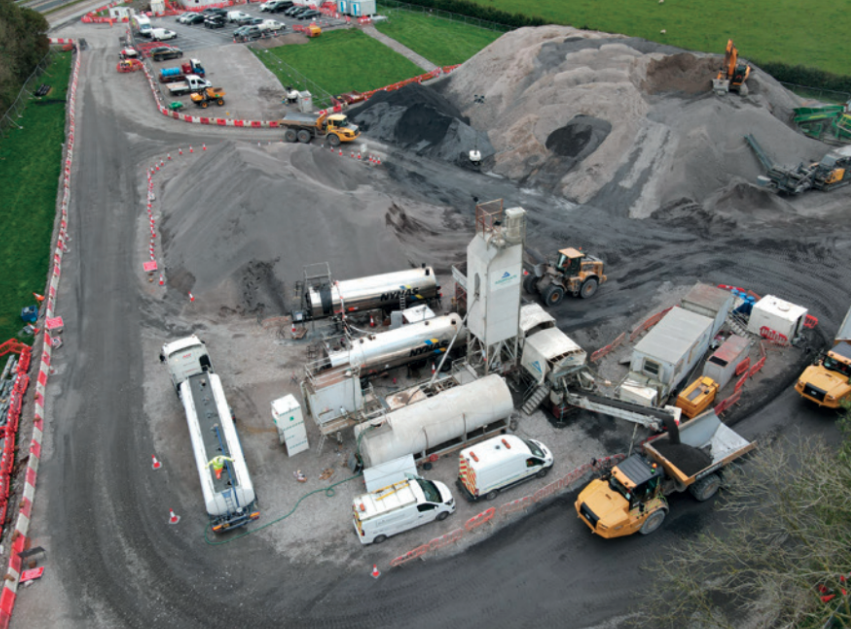 Central Asia
A pilot project in Central Asia to analyze a major expressay
The project scope was the analysis of alternative pavement scenarios of a 30-km 4-lane-expressway, connecting the country's major cities and experiencing heavy traffic. Other opportunities highlighted by the project included the certainty to deliver on time, the traceability of the materials used and the variability in materials and workmanship costs.This project served as a pilot for the ORIS platform's capability to help analyse the entire road project and improve investment decisions based on a holistic assessment of the economic and sustainability performance indicators of this project.
Costs potentially reduced by 18%
Carbon footprint mitigated by 13%
Maintenance costs reduced by 9%
Natural resources spared, with 41% less used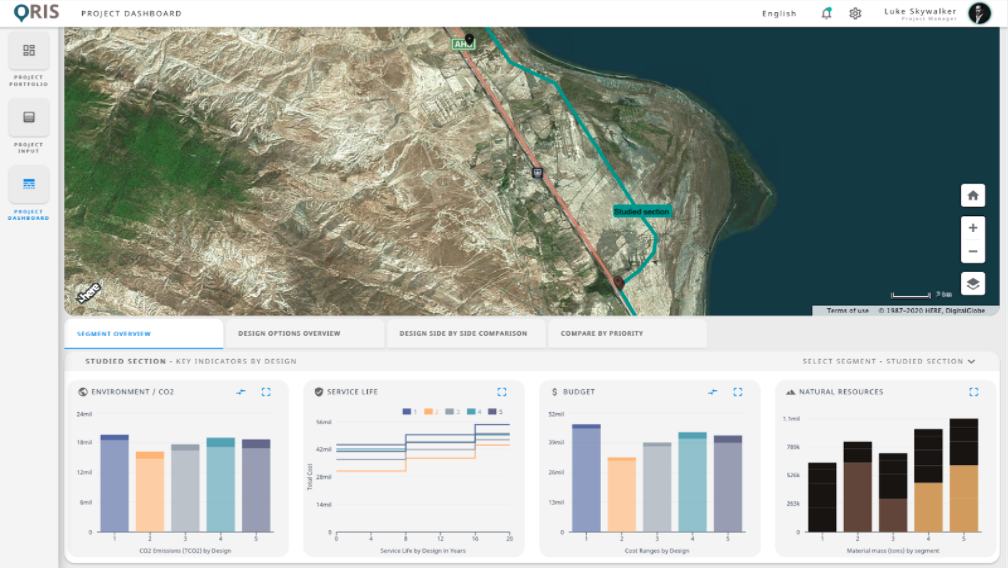 France
A French expressway project, optimized by integrating ORIS into Autodesk's Civil 3D
In collaboration with Autodesk, ORIS was used by an engineering firm for a 30-km standard expressway project in France. ORIS was integrated into Autodesk's Civil 3D software and enabled to generate several pavement structures, with the aim of comparing costs and carbon impact. While the pavement options were substantially equivalent in terms of mechanical performance and were all compliant with French pavement standards, this approach made it possible to identify in only a few minutes a design structure that had a much better performance in terms of costs and carbon footprint. The robustness of the solution was also ensured taking into account the combinatorial calculations offered, justifying many options in the region. With this approach, the engineering firm's public client was able to arbitrate its project between cost profile, carbon impact and enhanced circular economy.
Carbon footprint of the project potentially reduced by 40%

An estimated cost decrease of about 7% at the pre-project stage