ORIS Platform
With our platform, you will benefit from a comprehensive set of services dedicated to construction materials with the aim of smartly using natural resources and designing low impact infrastructure.
The core of our platform is an advanced mapping of construction materials database which references geolocation, properties and specifications of products.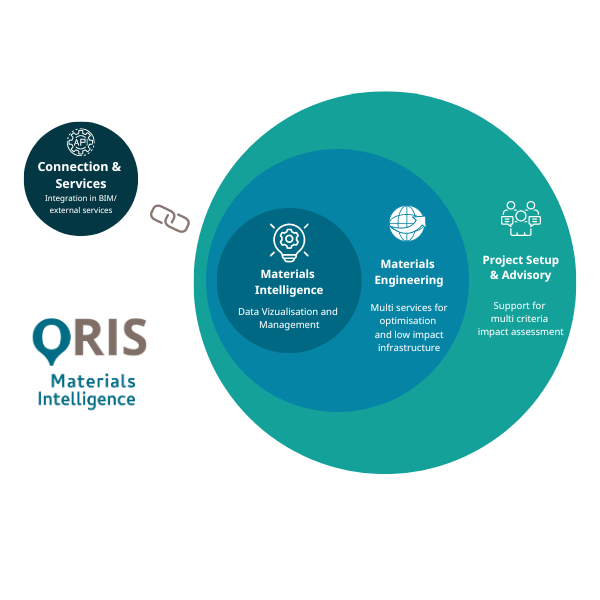 Our Features
Because we believe all players in the infrastructure construction ecosystem have a role to build responsibly, ORIS offers features that will be useful for each
Site Visibility
Geolocate construction materials production sites
Transportation Analysis
Calculate freight costs and carbon consumption for a specific construction project
Waste Disposal (DAP)
Fill out DAP file efficiently and with accurate data (according to French regulation)
Isochrone
Compare different transportation range and distances
Product Management
Manage production sites and catalogue
Carbon Calculator
Calculate carbon footprint of construction materials and infrastructure with life cycle analysis (LCA)
Pavement Optimization
Compare carbon footprint, cost and material consumption to optimize pavement design
Climate Resilience
Identify and analyse possible climate risks, and anticipate risks over 40 years in advance
Natural Resources Consumption
Identify local and circular sourcing options
Costs
Evaluate infrastructure whole life costs, including maintenance
Road Safety Due Diligence
Perform road safety assessment through iRAP methodology
Project Set Up
Prepare complex infrastructure projects using digital twins
Multi-criteria simulation
Running multi-criteria of infrastructure simulations in real sourcing environment
Impact assessment
Cross analysis of infrastructure projects carbon, budget, natural resources, resilience, road safety, etc.
Report
Full impact assessment reports
What our customers say about us
Neil LEAKE, National Technical Manager
---
"One of the main challenges/KPI's set at the start of achieving the first carbon neutral road scheme in the UK was to deliver a carbon neutral contract. The pavement design/materials was the biggest factor in reducing carbon, which is where ORIS showed its power; it was able to compare multiple pavement designs in respect of carbon, scheme budget, resources and life, giving us the optimum solution at the click of a button"
---
James BURDALL, Head of Pavement Design and Asset Management
---
"Our work with ORIS on a major UK road project allowed us to apply their disruptive technology to a live project and see firsthand the benefits it can bring. It's a game changer for road pavement design that gives our clients a holistic view of the long-term impacts of different design options. There is huge potential to deploy this data-driven solution more widely across the roads, rail and other construction sectors. By signing an MOU with ORIS we can offer this approach to more clients, helping them make more informed decisions that will reduce the cost and carbon impacts of their construction projects."
---
Kirsi PALMROOS, Managing Director Arkance Systems Finland
---
"With a dedication to trust and transparency, the ORIS team is setting a global standard for professional collaboration and delivery. Their expertise and capabilities in providing high-impact analysis for more sustainable infrastructure is very much appreciated. We look forward to continuing our partnership!"
---
Freemium
per user
EUR

0
Construction materials mapping

Transportation Analysis - Limited

Waste Disposal (DAP) - Limited

Carbon Calculator - Limited

Isochrone - Limited
Standard
per user
EUR

99
Construction materials mapping

Product management

Transportation Analysis

Waste Disposal (DAP)

Carbon Calculator

Isochrone

Cost assessment

Resilience (Vulnerability assessment)

Materials Flow (vizualization)
Premium
per user
EUR

149
Construction materials mapping

Product management

Transportation Analysis

Waste Disposal (DAP)

Carbon Calculator

Isochrone

Cost assessment

Resilience (Vulnerability assessment, Paris Agreement alignment)

Materials Flow (vizualization, simulation and project planning)

Automatic report

Export in Civil 3D

Comparison dashboard

Road Safety assessment
Enterprise
multiple users
C

0

NTACT US
Construction materials mapping

Product management

Transportation Analysis

Waste Disposal (DAP)

Carbon Calculator

Isochrone

Cost assessment

Resilience (Vulnerability assessment, Paris Agreement alignment)

Materials Flow (vizualization, simulation and project planning)

Automatic report

Export in Civil 3D

Comparison dashboard

Road Safety assessment